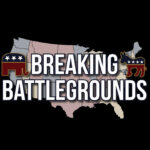 This week on Breaking Battlegrounds, Chuck and Sam are joined by the founders of two incredible organizations. First, Tim Ballard calls into the show with a look at how Operation Underground Railroad is rescuing children from the horrors of sex trafficking. Later, Marcee and Lance Foster of REACH Humanity join us to share how they are helping Ukrainian refugees.
Timothy Ballard is the Founder and President of Operation Underground Railroad (O.U.R.). He is also CEO of The Nazarene Fund which seeks to save oppressed religious and ethnic minorities in the Middle East. Ballard spent over a decade working as a Special Agent for the Department of Homeland Security where he was assigned to the Internet Crimes Against Children (ICAC) Task Force and deployed as an undercover operative for the U.S. Child Sex Tourism Jump Team.
He has worked every type of case imaginable in the fight to dismantle child trafficking rings. Ballard has worked undercover in the United States and in multiple foreign countries to infiltrate child trafficking organizations. In this effort, he has successfully dismantled dozens of these organizations and rescued countless children from slavery and exploitation. He is an expert at managing Internet investigations, particularly those dealing with file-share networks where pedophiles and traffickers go to trade child sexual abuse material (CSAM). He has trained hundreds of law enforcement officers and has testified before the United States Congress on best practices to liberate children from sex slavery.
In 2013, Ballard and a team of former government operatives left their careers to go about the work of saving children as a private foundation, Operation Underground Railroad.
After serving a church mission to Chile, Ballard graduated Cum Laude with a BA in Spanish and Political Science from Brigham Young University. He went on to graduate Summa Cum Laude with an MA in International Politics from the Monterey Institute of International Studies. He resides in California with his wife and children.
Lance and Marcee Foster have always had a passion for Humanitarian work. For years; they have taken their family to the far corners of the world serving. They have long had the dream of starting a non profit to provide humanitarian aid to those most in need.
While REACH Humanity has been in the works for years; the timing has been right to start it now. The goal of REACH Humanity is to raise funds and awareness and then travel right into the heart of the crisis; those parts of the world that have been ravaged by war, natural disasters, political unrest or extreme poverty. We want to lift and serve where the need is acute and the impact immediate.
Following an overwhelming feeling to travel to Poland to help with the Ukrainian refugees; the Foster family realized with absolutely clarity that the need is overwhelming. Women and children are fleeing with the clothes on their backs to a place that really isn't equipped to handle them. Generous donations have poured in from friends, family and strangers. But the need remains vast.
Now; REACH Ukraine has become the first project of REACH Humanity. While we are learning and adapting our mission in real time. The impact that we have had through generous online donations and an amazing army of boots on the ground volunteers has been overwhelming.
We hope to continue our efforts as we build out our infrastructure and fundraising ability past our own community. The structure is being put in place to create a lasting organization that will be able to impact those in need for years to come. Please join us on this journey. We have been able to serve many but there are SO many more in need of help. Our help.
Listen to Breaking Battlegrounds Podcast on
Spotify Podcasts: https://spoti.fi/3SVvOF4
Apple Podcasts: https://apple.co/3eeEis7