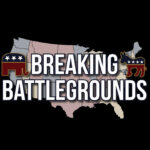 This week on Breaking Battlegrounds, we are joined by Utah State Treasurer, Marlo Oaks. Later in the show, we check in with former Arizona Congressional candidate Mark DeLuzio, a Gold Star father, for a look at the true meaning of Memorial Day. Finally, Jeff Taylor of the Salvation Army calls in to discuss the homelessness crisis and what can be done to solve it.
Treasurer Marlo Oaks spent 17 years overseeing multi-billion-dollar portfolios, first at Farmers Insurance Group in Los Angeles (15 years, $24 billion) and then at Intermountain Healthcare (2+ years, $7.5 billion) in Salt Lake City. He oversaw the Treasury function at Intermountain, along with all the community portfolios, including Primary Children's Hospital Foundation. He has experience managing foundation, endowment, healthcare/hospital system, insurance, defined benefit (pension), defined contribution (401K), taxable, and tax-exempt portfolios, including manager searches, due diligence, risk management, asset allocation, investment strategy, investment policies and guidelines, and reporting to senior executives and boards of investment committees.
During the 2008 – 2009 Financial Crisis, his portfolios' performance were among the best in the country, outperforming the median corporate pension plan by 11.5% (funded status basis), representing $200 million in added portfolio value. The insurance pools were top performers among their peers, allowing the company to purchase AIG's Direct Automobile Business, adding $4 billion to the portfolios, at the bottom of the market (March 2009). Treasurer Oaks began his career in Hong Kong on the derivatives desk at Standard Chartered Bank, a large British Bank with offices primarily in emerging markets.
As a volunteer, Treasurer Oaks served on the foundation investment committee at Utah Valley University for nine years. He also co-founded two non-profit organizations, the Stella H. Oaks Foundation that provides hope to single mothers through scholarships, and FIRST Utah Robotics a series of four programs that inspire children K-12 to pursue STEM careers. He is a member of the Chartered Financial Analyst (CFA) Society of Salt Lake City, the Chartered Alternative Investment Analyst (CAIA) Association of San Francisco, and holds both designations in addition to a Bachelor of Arts in Economics from Brigham Young University. He completed a Masters of Business Administration at UCLA Anderson School of Business. He and his wife are the parents of six children.
Mark DeLuzio was the first in his family to earn a college degree. After college, Mark was successful in the corporate world, advising senior executives on strategy and tactics in a multitude of diverse industries. For the past 20 years, Mark has been a successful entrepreneur as the founder of a global management consulting company and has received international acclaim as a leader in his field. Mark has been married to his college sweetheart, Diane, for 41 years. They have two sons, Scott and Steven, who joined the military after the 9-11 terrorist attacks. Steve was killed in action in Afghanistan while his brother Scott was fighting just miles away. Like their two sons, Mark and his wife continue to give back to America by dedicating themselves to various military charities. Mark has also helped countless Veterans to start successful businesses. Mark and Diane have three beautiful grandchildren who are the joy of their lives.
After retiring from a very successful run on Wall Street in his late 20's, Jeff had an escalating drug and alcohol addiction. By the age of 34 he was living on the streets of Phoenix and was arrested many times for homeless "survival" crimes that soon grew into non-violent drug motivated felonies. Finally, facing a longer-term prison sentence of 4 years, his sentencing judge diverted him to The Salvation Army Harbor Light Drug Treatment Program. Now Jeff serves as Chairman for Salvation Army of Arizona.