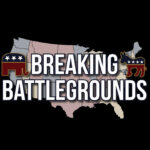 This week on
Breaking Battlegrounds
, Chuck and Sam are joined by William Inboden, author of
The Peacemaker: Ronald Reagan, the Cold War, and the World on the Brink
, and Chris Stirewalt of the American Enterprise Institute.
William Inboden joined the LBJ School faculty after many years of working as a policymaker in Washington, DC, and directing a foreign policy think tank overseas. He is the William Powers, Jr. executive director of the Clements Center for National Security and a distinguished scholar at the Strauss Center for International Security and Law. He is also a National Intelligence Council associate and serves on the CIA's Historical Advisory Panel and State Department's Historical Advisory Committee.
Dr. Inboden previously served as senior director for strategic planning on the National Security Council, worked on the State Department's Policy Planning Staff and served as a congressional staff member. His think-tank experience includes the American Enterprise Institute and running the London-based Legatum Institute. He is a Council on Foreign Relations life member and a contributing editor to Foreign Policy magazine, and his commentary has appeared in the Wall Street Journal, New York Times, Washington Post, Los Angeles Times, Foreign Affairs, The Weekly Standard and USA Today, and on NPR, CNN and BBC. His classes, "Ethics & International Relations" and "Presidential Decision-Making in National Security," have been selected in recent years as the Best Class in the LBJ School. His most recent book, on the Reagan administration's national security policies, is The Peacemaker: Ronald Reagan in the White House and the World (2022).
Chris Stirewalt is a senior fellow at the American Enterprise Institute (AEI), where he focuses on American politics, voting trends, public opinion, and the media. He is concurrently a contributing editor and weekly columnist for The Dispatch. Before joining AEI, he was political editor of Fox News Channel, where he helped coordinate political coverage across the network and specialized in on-air analysis of polls and voting trends.
Before joining Fox News Channel, Mr. Stirewalt served as political editor of the Washington Examiner, where he wrote a twice-weekly column and led political coverage for the newspaper. He also served as political editor of the Charleston Daily Mail and West Virginia Media. Mr. Stirewalt began his career at the Wheeling Intelligencer in West Virginia.
A well-known political commentator, Mr. Stirewalt wrote about his personal experience of the 2020 election in the Los Angeles Times. He is the author of "Every Man a King: A Short, Colorful History of American Populists" (Twelve Books, 2018), in which he looks at American populism through the history of seven famous populists.
Mr. Stirewalt is a graduate of Hampden-Sydney College in Virginia, where he studied history.
Listen to Breaking Battlegrounds Podcast on
Spotify Podcasts: https://spoti.fi/3SVvOF4
Apple Podcasts: https://apple.co/3eeEis7