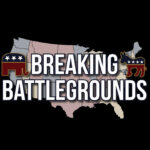 In this week's episode of Breaking Battlegrounds, we're honored to host Carla Sands, former U.S. Ambassador to the Kingdom of Denmark and current Vice Chair at the America First Policy Institute. She brings unparalleled insights into pressing global issues, including ambassadors' advocacy for Israel and the dynamic role of ambassadors in conflicts similar to those in Israel and Ukraine. Join us for a comprehensive discussion on the risks associated with Biden's energy plan, featuring facts and figures that shed light on it all. Later in the show, we welcome back Attorney General Austin Knudsen, addressing his recent reelection bid for Attorney General, the constitutional implications of Hawaii's gun ban, and the support for a mother suing a school district for hiding her child's gender transition. Visit AustinForMontana.com to learn more. Wrapping up, we have a special podcast feature with labor law and policy expert Vinnie Vernuccio, exploring deceptive salting loopholes in unions and their impact on the workforce. Plus, don't miss Kiley's Corner, where Kiley provides updates on the Idaho 4 murder case and reports on the suspicions surrounding the suicides of four Los Angeles Sheriff Department deputies within a 24-hour span on Monday. It's a power-packed episode you won't want to miss!
About our guests
Ambassador Carla Sands is currently the Vice Chair, the Center for Energy & Environment, America First Policy Institute, and also leads AFPI's Pennsylvania Chapter. She previously served as U.S. Ambassador to the Kingdom of Denmark which includes Greenland, and the Faroe Islands from 2017-2021.

During her tenure, she and her team increased U.S. exports to Denmark by 45% according to MIT's Observatory of Economic Complexity. Her number one goal as ambassador was to increase U.S. national security by establishing a consulate in Greenland. By working with the inter-agency and Congress, her goal was realized in 2020.

Additionally, she successfully executed trade and cooperation agreements with Greenland and the Faroe Islands to counter Russian and Chinese malign influence. In 2021 she was awarded the Department of Defense's highest civilian honor, the Medal for Distinguished Public Service.

In 2015-2017 Carla served as Chairman of Vintage Capital Group and its subsidiary company Vintage Real Estate which specialized in the acquisition and development of regional malls and shopping centers across the country.

Before an orderly wind-down of the company starting in 2018, Vintage Real Estate had a portfolio that included 13 properties with 4.3 million square feet invested in underperforming assets. The team was vertically integrated with in-house leasing, development, and property management.

Early brief careers included film acting and practice as a 3rd generation Doctor of Chiropractic. Carla pursued her undergraduate education at Indiana University of Pennsylvania, and Elizabethtown College where she studied pre-med and earned her Doctor of Chiropractic from Life Chiropractic College.

Carla is currently a board member of the Parliamentary Intelligence-Security Forum and serves on the advisory boards of Krach Institute for Tech Diplomacy at Purdue, and the International Women's Forum. She has served on many charitable and philanthropic boards.
Attorney General Austin Knudsen grew up on his family farm and ranch just outside of Bainville (in the far northeast corner of Montana) where they grew wheat, sugar beets and raised angus cattle. Austin was a 4-H kid, raising steers to show at the fair, and volunteering at community events. He participated in Future Farmers of America (FFA) throughout high school. In fact, Austin met his wife, Christie, while they both served as FFA State Officers during their freshman year of college at Montana State University-Bozeman.

Austin put himself through college in Bozeman working jobs at the local butcher shop and a hardware store, and each summer he returned to work on the farm and ranch. Austin and Christie were married shortly after graduation and moved to Missoula where Austin earned his law degree from the University of Montana. Their oldest daughter Leah was born in between Austin's first and second years of law school and they were later blessed with a son, Connor, and their youngest daughter, Reagan.

After law school, Austin and Christie moved their family back to the farm and ranch where they knew they could instill in their children strong Montana values. Austin worked at a law firm in Plentywood before opening his own practice in Culbertson.

In 2010, Austin was elected to serve as the Representative for House District 34, defeating a two-term incumbent Democrat in what was one of the most expensive State House races in Montana history. Having quickly noticed the extent of the disconnect between Helena bureaucrats and political insiders and the rest of the people across Montana, Austin took on leadership roles within his caucus and was elected Speaker Pro Tempore (deputy Speaker) in just his second session of service.
F. Vincent Vernuccio, president and co-founder of Institute for the American Worker, brings over 15 years of expertise in labor law and policy. Vernuccio holds advisory positions with several organizations, including senior fellow with the Mackinac Center. Vernuccio served on the U.S. Department of Labor transition team for the Trump Administration and as a member of the Federal Service Impasses Panel. Under former President George W. Bush, he served as special assistant secretary for administration and management in the Department of Labor. He has advised state and federal lawmakers and their staff on a multitude of labor-related issues, and testified before the United States House of Representatives Subcommittee on Federal Workforce, Postal Service and Labor Policy.