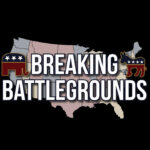 This week on
Breaking Battlegrounds
, we catch up with Dan McLaughlin of the National Review and Sean Noble of DC London and American Encore fills in for Sam as Chuck's cohost.
Dan McLaughlin is a senior writer at National Review Online. He was formerly an attorney practicing securities and commercial litigation in New York City, a contributing editor of RedState, columnist at the Federalist and the New Ledger, a baseball blogger at BaseballCrank.com, BostonSportsGuy.com, the Providence Journal Online, and a contributor to the Command Post. His writings on politics, baseball, and law have appeared in numerous other newspapers, magazines, websites, and legal journals.
Sean Noble is president and founder of American Encore. He is also is a founding partner of DC London, Inc., an award-winning consulting firm that provides political, public relations, and public affairs consulting services to a variety of high-profile clients and campaigns. He is also a frequent contributor to Townhall.com. Sean is also known for his lengthy run with Congressman John Shadegg, ten years of which were spent as Chief of Staff to the Arizona Republican. Additionally, he has managed campaigns for Congress, U.S. Senate, Governor, State Legislature, and ballot initiatives. He was instrumental in turning around Tom Coburn's first U.S. Senate race, guiding Coburn from an 11-point deficit to a 12-point win in the last seven weeks of the campaign in 2004.
Listen to Breaking Podcast on
Spotify Podcasts: https://spoti.fi/3SVvOF4
Apple Podcasts: https://apple.co/3eeEis7