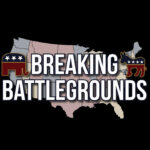 This week on
Breaking Battlegrounds
, we are joined by Austin Smith, a Republican running for State Legislature in Arizona and Michael Lieb, the co-founder of Home Arizona.
Austin Smith is a proud 5th-Generation Arizonan. Growing up in LD-29, he became a National FFA Award recipient and an All-State award-winning football player at Millennium High School. Working in the agricultural industry on ranches and farms across Arizona, he saw firsthand how devastating an out-of-control government can be to water, business, and freedom. This led him to become involved with grassroots activism as early as the 2014 Midterms. Beginning in 2016, Austin joined a young team of Conservative Activists led by Charlie Kirk and helped convince Charlie to move Turning Point USA's headquarters from Chicago to Phoenix. Turning Point would go on to create over 200 Arizona jobs thanks in large part to Austin's insistence that the heart of the Youth Movement for Freedom & Free Markets be based in America's next great Battleground State. After four years working directly under Charlie Kirk—one of America's foremost conservative fighters—Austin helped him to run Students For Trump, a 501(c)4 project of Turning Point Action. In his capacity there as National Field Director, Austin organized a state-of-the-art effort, creating college chapters on over 300 campuses, amassing over 750,000 doors knocked—effectively reaching millions of voters with President Trump's America First message. Following the 2020 election, while actively engaged in the grassroots effort to Audit the Vote in Maricopa County, Austin completed a robust offensive to recruit 1,000 Precinct Committeemen in Arizona, fighting every day to take back our state from the grips of tyrannical Democrat rule both here at home and in Washington DC. An avid outdoorsman, amateur golfer, and active member of his church community, Austin spends what free time he has with his mom Sabrina, dad Rick, and brother Troy enjoying the natural beauty of the state his family has called Home since 1908.
Deemed the "King of Infill" by the Arizona Republic for over two decades Michael Lieb has been a key player in the residential and commercial development of thousands of acres located in urban and rural areas throughout Metropolitan Phoenix. In Urban areas such as Downtown and Central Phoenix and Downtown Tempe, Lieb has dedicated himself to working to attract national and international developers to achieve the vision set forth by both these cities and their downtown community of new urban scale housing and mixed-use commercial development.
His involvement in various real estate projects which include residential, retail and commercial have made him an instrument force in the success of the newly created downtown core of Phoenix known as Copper Square and made him a true pioneer in the effort to revitalize downtown and Central Phoenix into a valuable urban center. Lieb has the ability, experience, and relationships necessary to work closely with top phoenix public officials and senior staff members in the downtown Phoenix areas. Professionally Michael A. Lieb, Ltd is well known and highly respected for his real estate expertise throughout the local real estate market. This professional recognition has enabled him to establish relationships with the top real estate executives and decision makers of many local and national real estate development companies.
For nearly two decades Michael A. Lieb, Ltd has been among the Valley's leading real estate/land acquisition professionals. Lieb has been a catalyst for redevelopment by promoting and creating infill development throughout the valley including Downtown Phoenix area.
Lieb's knowledge and efforts of the urban residential and commercial real estate market alone make him as asset to the continued success of Phoenix and have resulted in over 30,000 new housing units constructed throughout the metro Phoenix and Downtown Copper Square.
Listen to Breaking Battlegrounds Podcast on
Spotify Podcasts: https://spoti.fi/3SVvOF4
Apple Podcasts: https://apple.co/3eeEis7