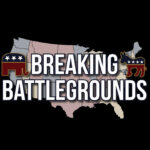 This week on
Breaking Battlegrounds
, Chuck and Sam are joined by Pardis Mahdavi, an Iranian-American scholar who recently published an incredible op-ed in the Washington Post, "
When Iran's 'morality police' came for me.
" Later in the show, Matt Beienburg of the Goldwater Institute joins us with an update on Arizona's ESA program.
–
Pardis Mahdavi is the dean of the social sciences division in The College of Liberal Arts and Sciences at Arizona State University, and a professor in ASU's School of Social Transformation. Mahdavi's approach to higher education has been informed by her personal journey as an Iranian-American woman growing up in the U.S., as well as her training as an anthropologist where she learned to be reflexive about complex power dynamics. She has focused her academic career on diversity, inclusion, human trafficking, migration, sexuality, human rights, feminism and public health. Prior to joining ASU, she was the acting dean of the Josef Korbel School of International Studies at the University of Denver. Before coming to Denver, she was at Pomona College from 2006 to 2017, where she most recently served as professor and chair of anthropology, director of the Pacific Basin Institute at Pomona College, as well as dean of women. She has published five single authored books and one edited volume in addition to numerous journal and news articles. She has been a fellow at the Social Sciences Research Council, the American Council on Learned Societies, Google Ideas and the Woodrow Wilson International Center for Scholars. She has consulted for a wide array of organizations including the U.S. government, Google Inc. and the United Nations.
–
Matt Beienburg is the Director of Education Policy at the Goldwater Institute. He also serves as director of the institute's Van Sittert Center for Constitutional Advocacy. Published in local and national outlets, Matt's work focuses on promoting educational freedom, parental rights, and greater civic appreciation of America's founding principles.
Prior to joining Goldwater, Matt served as a senior analyst at the Arizona Joint Legislative Budget Committee (JLBC), where he regularly drafted fiscal estimates and briefed members of the state legislature on major policy initiatives in K-12 and higher education.
Matt previously worked in human capital consulting for Mercer, where his projects included surveying teacher engagement and analyzing the competitiveness of staff salaries at low-income area charter schools in Los Angeles. He has also worked in Washington, D.C. with Imagine Schools and the Center for Education Reform.
A native of Arizona, Matt earned a bachelor's in economics from Claremont McKenna College, where he graduated summa cum laude, and a master's in public affairs from Princeton.
Listen to Breaking Battlegrounds Podcast on
Spotify Podcasts: https://spoti.fi/3SVvOF4
Apple Podcasts: https://apple.co/3eeEis7