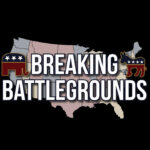 In this exclusive,
podcast
-only episode of
Breaking Battlegrounds
, Chuck and Sam talk with tech entrepreneur Alex Mashinsky to talk about the future of blockchain technology and digital currencies.
Alex Mashinsky was born into communism, reared under socialism, and is currently thriving under capitalism. He is a prominent entrepreneur who has founded several companies over the years, including Celsius Network, GroundLink, Transit Wireless, Elematics and Arbinet.
Alex disrupted several industries but he is most known as the inventor of VOIP which today enables over 1B people worldwide to use free voice over the internet for free. His new startup Celsius Network, is disrupting the banks, it is a community-based Proof-of-Stake blockchain protocol allowing members to borrow dollars against their crypto assets and to earn interest when they deposit (and lend) their crypto out. he wants 7.5B people to go From VOIP to MOIP (Money over IP).
Alex's success as an entrepreneur stems from his acute ability to identify future trends, assemble world-class teams and raise enough money to fund his projects. Two of his companies, Arbinet and Transit Wireless achieved a monopolistic hold in their respective industries and pioneered new business models and groundbreaking technologies.
Alex has a long history with high tech, evidenced by his powerful intellectual property portfolio. He has authored over 50 patents that cover aspects of VOIP, Smart Grid, Ad exchanges, Groupon, Twitter, Skype, App Store, Netflix streaming concept and many other top performing web companies. He is one of the leading evangelists of web-based exchanges.
Due to his extensive experience as a prolific inventor and a business strategist, Alex has been a featured speaker at over 250 international conferences. He has also made numerous TV appearances on business networks and talk shows.
He has received numerous awards, notably the prestigious Albert Einstein Technology Medal in 2000, the Technology Foresight Award for Innovation (presented in Geneva at Telecom '99) and Crain's Top Entrepreneur Award in 2010. He has also been nominated for E&Y's Entrepreneur of the Year Award in 2002 and 2011. He recently was named "Top 100 In Crypto" by CoinTelegraph.
After years of entrepreneurship, Alex subsequently gravitated towards investing in startups, founding his early stage venture capital firm, Governing Dynamics. Over the years, Alex has raised over $1 billion in venture and private equity funds to help position his startups as leaders in their fields. Arbinet's fundraising efforts were even documented in an HBS case study in 2001.
Currently based in New York, Alex serves as a Managing Partner of Governing Dynamics. The firm has invested in Cryptocurencies and ICO's as well as startups focused on AI/ML, biotech and cybersecurity.
Alex has invested in over 60 startups over the years, recording many successes and an equal number of failures. As a prominent figure in the New York entrepreneurial scene, he has previously been a member of the YPO's NYC chamber. He believes that "the secret to success is finding something to do in which your skills can exceed your ambitions."
Listen to Breaking Battlegrounds Podcast on
Spotify Podcasts: https://spoti.fi/3SVvOF4
Apple Podcasts: https://apple.co/3eeEis7