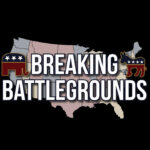 In this episode, we've lined up a trio of compelling guests to keep you informed. First, Congressman Russell Fry, representing South Carolina's 7th District, joins us to discuss critical topics, including the border crisis, Hurricane Idalia's impact on his district, and his bipartisan bill, the Fentanyl Crisis Research and Evaluation Act. Plus, we'll explore the latest developments in the Biden family investigations.
Then, we'll shift our focus to New York's 3rd Congressional District with congressional candidate Kellen Curry where he discusses his bid to unseat incumbent George Santos.
Lastly, friend of the show, Henry Olsen, a Washington Post columnist and senior fellow at the Ethics and Public Policy Center, will provide insights into the ever-evolving political landscape, including his recent analysis of Trump.
Congressman Russell Fry is proud to serve the Grand Strand and Pee Dee as their Representative for South Carolina's Seventh Congressional District.

Russell is a true believer in the American Dream. Growing up he watched his parents work hard for every penny they earned, and since then Russell has been doing the same. He put himself through his undergraduate education at the University of South Carolina and law school at the Charleston School of Law, where he served as president of the Student Bar Association, helped the school achieve its American Bar Association accreditation, and also received the prestigious Civility Award. After this, he practiced law along the Grand Strand for over a decade.

As an Eagle Scout, Russell shares the sentiment that "you should leave your campsite better than you found it." Every day he strives towards a goal that "we should leave our country better than we found it." Growing up, he saw first-hand how government's actions directly affect families living paycheck to paycheck, and he is committed to fighting for those who don't always have a voice.

Russell is a public servant and active member of his community. Prior to this role, he represented State House District 106 (Horry County) in South Carolina's General Assembly for seven years. He served as Chief Majority Whip, where he fought for lower taxes, less government, pro-Second Amendment legislation, and pro-life legislation. Russell also chaired the House Opioid Abuse Prevention Study Committee, which resulted in 18 policy initiatives being signed into law and record funding for opioid prevention, education, and treatment.

Russell is a loving husband to his wife, Bronwen, and dedicated father to their son, James. The family lives in Murrells Inlet with their chocolate lab, Jasper.
Kellen Curry
As a graduate of the United States Air Force Academy Kellen spent eight years on active duty delivering critical cyber security technology for our country's military and completed two tours of duty in Afghanistan. After completing his Master of Business Administration degree at George Washington University, Kellen went on to work at J.P. Morgan's Corporate and Investment Banking Division in New York City. Kellen believes his extensive experience working in national security and in our national economy will serve him well in his bid for Congress. Kellen continues to serve our nation in the Air Force Reserves and is a student at Columbia University pursuing a Master of Science in Sports Management where he also volunteers with Positive Coaching Alliance, a non-profit organization which strives to create a positive youth sports environment in communities across the country.

In his campaign, Kellen will be focusing on core issues including national defense in the face of rising global threats, economic insecurity due to persistently high inflation, increasing affordability on Long Island and raising the accountability bar in D.C. through ethics reforms.

He will also be working to achieve what he calls 'the gold standard of constituency services' which has been absent but is critical to improving the lives of NY-3 residents.
Henry Olsen is a Washington Post columnist and senior fellow at the Ethics and Public Policy Center. He was the Thomas W. Smith distinguished scholar in residence at Arizona State University for the winter/spring 2023 semester. Olsen began his career as a political consultant at the California firm of Hoffenblum-Mollrich. After three years working for the California Assembly Republican Caucus, he returned to school to become a lawyer. Following law school he clerked for the Honorable Danny J. Boggs on the United States Sixth Circuit Court of Appeals and as an associate in the Philadelphia office of Dechert, Price & Rhoads. He then joined the think tank world where he spent the next eighteen years as an executive at a variety of institutions, serving as the President of the Commonwealth Foundation, a Vice President at the Manhattan Institute, and as Vice President and Director, National Research Initiative, at the American Enterprise Institute. He left AEI in 2013 to pursue a career in political analysis and writing at EPPC. During that time his work has appeared in variety of leading publications in America and the United Kingdom. He is the author or co-author of two books, "The Working Class Republican: Ronald Reagan and the Return of Blue-Collar Conservatism" and (with Dante J. Scala) "The Four Faces of the Republican Party". His biennial election predictions have been widely praised for the uncanny accuracy, and he is a frequent guest on television and radio programs. Olsen regularly speaks about American political trends and global populism in the United State, Europe, and Australia.