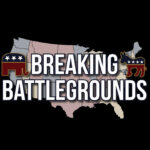 Ryan Tyson of the Florida-based Tyson Group joins Chuck Warren on this week's episode of
Breaking Battlegrounds
to offer his insight into the current state of Florida
politics
. Also on the show this week, Chuck talks to Ryan Smith, the Director of Communications and Government Relations for Phoenix-Mesa Gateway Airport. His responsibilities include marketing and community relations, as well as all government relations duties for the airport. Ryan graduated from
Arizona
State University with a degree in Political Science and is a fifth generation Arizona resident. Ryan Tyson is the President and managing partner of The Tyson Group, which is a center-right polling and market research firm with polling experience in 48 states.
He serves as Executive Director of Preserve the American Dream, a Florida based 501(c4) that primarily educates the public and media on quantitative and qualitative research it conducts across the state and around the country.
As a Florida based strategist, Tyson has developed multiple organizations devoted to fundraising, research, electioneering and independent expenditure efforts. He has served as strategist and pollster on multiple statewide ballot initiatives in Florida, using his research techniques to not only to craft successful ballot titles and summaries on 'Yes' campaigns, but also exposing the weaknesses in 'No' campaigns. He has also worked for some of the largest corporations in Florida and his political acumen and prowess are known to many across the country.
Tyson's wide range of experience in all levels of national, state, and legislative campaigns and has made him a valuable asset in the Sunshine State. Having advised on multiple statewide campaigns including for former President Donald Trump's Florida campaign, Governor Ron DeSantis, Senator Marco Rubio and Senator Rick Scott, Tyson's unique mix of data driven campaign strategy has resulted in Florida Politics twice naming him as one of the top 100 "most influential people in Florida Politics."
He received his Bachelor of Science in Public Relations from the University of Florida. He currently resides in Tallahassee with his wife, Mary Beth, and three sons, John David, Brennan and Benjamin.
Listen to Breaking Battlegrounds Podcast on
Spotify Podcasts: https://spoti.fi/3SVvOF4
Apple Podcasts: https://apple.co/3eeEis7