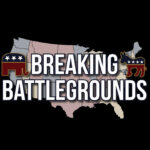 This week on Breaking Battlegrounds, we are honored to be joined by former Congresswoman Mia Love of Utah and current Senator Marco Rubio of Florida. We also check in with our friend Alexander Raikin for an update on Canada's assisted suicide program.
Mia B. Love is a former Representative of the 4th Congressional District of Utah. Love was elected to office in 2014. She is the first and only Republican black female to ever serve in The United States Congress. Love was appointed as the only freshman to serve on the Select Panel for Infant Lives, to investigate the selling of organs on the free market. She was also selected to serve on the Financial Services Committee (which handles regulation of our nation's financial institutions) Terrorism and Illicit Finance, Financial Institutions and Monetary Policy and Trade subcommittees.
While in office, she was a champion for reducing burdensome regulations and sponsoring legislation that make it easier for small and community banks to lend money to individuals and families. That bill (part of S. 2155) was signed into law in August of 2018. Rep. Love was also a leader in the push for immigration reform, and adamantly works to protect life at all stages of development, liberty and the pursuit of happiness for all. She was awarded the Marilyn Musgrave "Defender of Life Award" for her work in protecting life in Congress.
Rep Love was a headline speaker at the 2012 RNC convention in Tampa FL. Prior to her work in Congress, Rep. Love served as a city councilwoman and mayor in her hometown of Saratoga Springs, Utah.
Mia is currently a CNN correspondent and was recently appointed as a non-resident senior fellow at The United States Studies Centre at the University of Sydney.
Mia is passionate about getting Americans out of government poverty programs that are meant to trap and destroy families and promoting free market principles. She has advocated for limited government, fiscal discipline and personal responsibility.
Mia is currently a CNN correspondent and was recently appointed as a non-resident senior fellow at The United States Studies Centre at the University of Sydney. Most importantly, Mia is the daughter of legal immigrants from Haiti, a wife, a mother of three children and a proud American.
Marco Rubio has represented Florida in the United States Senate since 2010, where he has one guiding objective: bring the American Dream back into the reach of those who feel it slipping away.
Senator Rubio's efforts have been successful and long-lasting. Non-partisan analyses by GovTrack and the Center for Effective Lawmaking ranked Rubio the Senate's number two leader and most effective Republican in 2020.

Senator Rubio currently serves as Vice Chairman of the Senate Select Committee on Intelligence, where he oversees our nation's intelligence and national security apparatus. Senator Rubio is also a member of the Foreign Relations Committee, where he fights to promote human rights and America's interests around the globe; the powerful Appropriations Committee, which allocates funding for the federal government; and the Special Committee on Aging, dedicated to the needs of older Americans.

In addition, Senator Rubio serves on the Committee on Small Business and Entrepreneurship, where works to help small businesses thrive in the 21st century. As former Chairman of this committee, Rubio authored the historic Paycheck Protection Program, which has been a lifeline to millions of small businesses and Americans workers as they battle economic hardship in the wake of the COVID-19 pandemic.

Senator Rubio was born in Miami, after his parents came to the United States from Cuba in search of the American Dream. He lives there today with his wife Jeanette and their four children.
Alexander Raikin is a freelance journalist and a writer interested in medical ethics and bad statistics. His writings have been published in City Journal and The New Atlantis. Alexander is also a research fellow with Do No Harm. He can be found on Twitter at @AlexanderRaikin