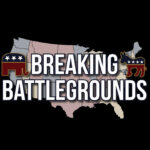 This week on Breaking Battlegrounds, we are honored to be joined by three distinguished guests: Congresswoman Carol Miller of West Virginia, Congressman Josh Brecheen of Oklahoma, and former Assistant Secretary of the Treasury for Financial Institutions Chris Campbell.
Congresswoman Carol Miller represents West Virginia's First Congressional District. Miller serves on the Committee on Ways and Means.
Miller's focus in Congress is creating jobs, diversifying the economy, innovating and improving infrastructure, protecting America's borders, and supporting West Virginia's energy industries like coal, oil, and gas.
Prior to her election to Congress in 2018, Congresswoman Miller served in the West Virginia House of Delegates from 2006 to 2018 where she rose to become the first female Majority Whip.

A mother of two and grandmother of seven, Carol Miller is married to her husband Matt, and lives in Huntington, where she owns and operates Swann Ridge Bison Farm and manages real estate. Miller was born in Columbus, Ohio and is the daughter of Congressman Samuel L. Devine and Betty Devine.
Josh Brecheen (pronounced Bra-keen) is a committed Christian, husband, father, and is a fourth generation rancher in Coal County, Oklahoma. Prior to his time in Congress, he owned and operated a small excavation and trucking business, Rawhide Dirtworks L.L.C. He served as an Oklahoma State Senator from 2010 to 2018, obtaining an overall voting record as the third most conservative senator among those with whom he served. He was the original author of measures that included capping state debt, banning dismemberment abortions, and a true repeal and replace of the common core educational standards—the nation's first. From 2004 to 2010, Brecheen worked for U.S. Senator Tom Coburn, M.D. as a field representative, working directly with Oklahoma constituents and evaluating federal programs for waste and inefficiencies.

Brecheen is a graduate of Oklahoma State University, where he earned a dual degree in agriculture. He served the Oklahoma FFA Association as State President in 1999 and later worked seasonally for the National FFA Organization as an ALD conference presenter. Until 2010, he brought inspirational messages into approximately 500 public schools, universities, and conferences through his motivational speaking business, Brecheen Keynotes and Seminars and also as a free service when employed by Tom Coburn.

Brecheen grew up in the professional cutting horse industry and in his youth was a two-time national qualifier for the National Cutting Horse Association Eastern Championship show. After college, Brecheen started training cutting horse futurity prospects as a "non pro" and has been raising quality cow horses for over 20 years.

As a member of Congress, he is focused on reining in our unsustainable debt and deficit spending, which he is convinced is undermining our national security.
The Honorable Christopher E Campbell is the Chief Strategist at Kroll, based in the New York office. As a Fellow of the Kroll Institute, he is a frequent guest commentator on national news programs on matters involving the economy.
Prior to Kroll, Chris was unanimously confirmed by the U.S. Senate to serve as the Assistant Secretary of the Treasury for Financial Institutions from 2017 to 2018. In that role, he was responsible for coordinating the Department's efforts regarding financial institutions legislation and regulation, legislation affecting federal agencies that regulate or insure financial institutions and securities markets legislation and regulation. Specific policy and program areas of oversight included government-sponsored enterprises, critical infrastructure protection (cyber security) and compliance policy, the Federal Insurance Office (FIO), small business, community development and affordable housing policy.
Chris was the Treasury board representative on the boards of the Pension Benefit Guarantee Corporation (PBGC) and the Financial Industry's Critical Infrastructure Group. He regularly met with the heads of the 15 federal financial regulators. Additionally, he oversaw the Deputy Assistant Secretaries for Financial Institutions Policy and Small Business, Community Development and Affordable Housing, and Cyber Security, in addition to a staff of 200.
Prior to his role at the Treasury department, Chris was the majority staff director to the U.S. Senate Committee on Finance. He designed, managed and coordinated the U.S. Senate Republican agenda in the areas of international and domestic taxation, international trade, Medicare, Medicaid, Social Security, the U.S. National Debt, and oversight of three presidential cabinet secretaries. He was named by Roll Call Newspaper as one of the 50 most influential staffers on Capitol Hill, seven years running. Previously, he served as legislative director to Senator Orrin G. Hatch, where he coordinated and managed the senator's legislative activities.
Immediately prior to rejoining Senator Hatch's staff, Chris owned a business consulting firm that specialized in business strategy for clients from all-sized companies across the country, and from a variety of industries.
Chris is a director of Intrado, Coinstar, WeConnect Health Management, tZERO, and a board advisor at Cross River Bank. Additionally, he is a Professor of Practice at his alma matter, Thunderbird School of Global Management. He also serves as a strategic advisor and consultant to several large national and international organizations. He is a member of the Council on Foreign Relations.
He holds an MBA from Thunderbird School of Global Business Management and a bachelor's degree in political science from the University of California, Santa Barbara.