Podcasts for language learning have been increasing in popularity in recent years as a practical and flexible way to get podcasts on various themes. Podcasts are a wonderful resource for language learners looking to improve their listening abilities, vocabulary, and overall language proficiency.
With extensive language-specific podcasts available, learners can select content tailored to their interests and skill level, making it an engaging and effective way to learn a new language.
Many podcasts for language learning include native speakers addressing various subjects such as culture, history, and current events, giving students an understanding of authentic language and the opportunity to practice listening in real-life situations.
There are so many free language learning podcasts available in many different languages learners can select one that corresponds to their interests and hobbies, making free language learning podcasts interesting and engaging. However, it is important to select podcasts that suit the learner's level and goals and to combine them with other language-learning methods, such as speaking practice, grammar drills, and reading.
Furthermore, some podcasts include interactive features such as quizzes or language exercises, which can enhance the learning experience even more. Podcasts are also extremely convenient because they can be downloaded and listened to on mobile devices anywhere, making them excellent for learners with hectic schedules or limited time to devote to language learning.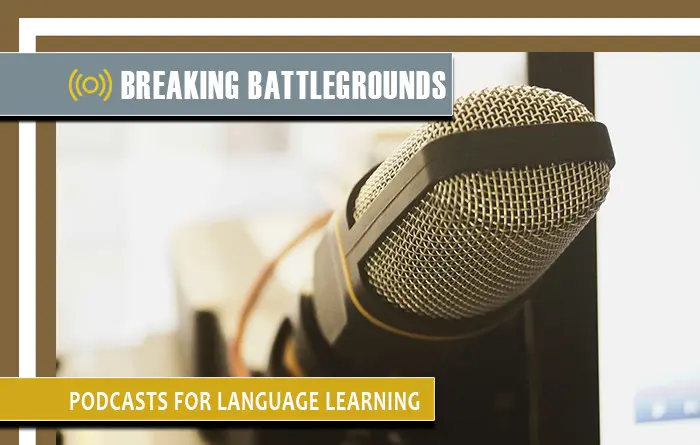 A list of podcasts that can help you learn a new language
Podcasts are a simple and interesting approach that adds to traditional podcast language techniques, and they can assist learners in reaching their language goals in a fun and successful method.
With the increasing availability of podcasts for language learning, people can practice speaking and pronunciation by listening to the innovative language podcasts that are given below:
The Fluent Show is a popular podcast for language learners that Kerstin Cable hosts. The podcast includes interviews with professionals and discusses language learning tactics, ideas, and resources. In addition, Kerstin discusses various issues, such as language learning attitude, vocabulary development, and language immersion.
Furthermore, The Fluent Show frequently features guest interviews with multilingual individuals and language aficionados, presenting listeners with various perspectives on language learning. The podcast is educational, entertaining, and well-produced, making it an ideal resource for anyone trying to enhance their language skills.
The Fluent Show's episodes each focus on a different area of language learning, such as grammar, vocabulary, pronunciation, and listening skills. Interviews with language experts, polyglots, and other language learners are featured, as well as language challenges and games to help listeners practice their abilities.
The Actual Fluency Podcast
Kris Broholm hosts the Actual Fluency Podcast, one of the best podcasts for language learning. The podcast offers interviews with language learners, polyglots, linguists, and language learning professionals.
The guests offer their experiences, recommendations, and thoughts on effectively learning languages. Moreover, Language teaching methods, language interaction, language resources, and language learning challenges are all covered in the podcast.
The podcast aims to give listeners practical advice and insights into language learning. Kris and his guests discuss effective study techniques, language immersion, and teaching methods. Each episode is designed to help listeners improve their language skills and achieve their goals of learning a new language.
Anyone interested in learning a new language or improving their language learning skills will find the Actual Fluency Podcast a great resource.
The Allusionist is one of the best-known podcasts for language learners with its different aspects. The podcast, hosted by Helen Zaltzman, a writer, presenter, and linguist, delves into numerous areas of language and linguistics, such as grammar, etymology, dialects, and more.
One of the unique features of The Allusionist is its focus on language learning. The podcast offers useful insights and recommendations on enhancing your language skills, such as learning new vocabulary, improving pronunciation, and developing fluency. In addition, the podcast discusses the most recent language learning tools and strategies, such as online courses and language exchange programs.
Moreover, the podcast delves into language's cultural and social aspects, examining how language reflects and shapes our identities, beliefs, and values. The podcast features interviews with linguists, language experts, and language enthusiasts worldwide, providing a rich and diverse perspective on language and its role in our lives.
I Will Teach You A Language
"I Will Teach You A Language" is a popular language-learning podcast by Olly Richards. The podcast aims to help people learn a foreign language effectively and enjoyably.
Olly Richards is a multilingual man who speaks Spanish, French, Portuguese, Japanese, Arabic, and Cantonese fluently. He has a strong interest in language learning and has dedicated his career to assisting others in learning other languages.
Listeners can also enroll in Olly's language study courses, which are meant to provide a complete and organized approach to language acquisition. Access to online materials, video lessons, and personalized coaching are all included in these courses.
The host provides his expertise and practical language-learning ideas in each podcast episode. In addition, he discusses various issues, including vocabulary development, grammar, pronunciation, and language learning methodologies.
He also interviews other multilingual people and language experts to provide more insights and motivation to listeners. One of the unique aspects of "I Will Teach You A Language" is Olly's emphasis on using stories and conversations to learn a language.
He believes language learning should be pleasurable, with learners engaging in fascinating and relevant topics. Olly employs this method to teach languages in a way that is both enjoyable and successful.
News in Slow is a language learning podcast that offers a unique and innovative approach to improving language skills. The podcast is available in several languages, including Spanish, French, German, Italian, and Portuguese.
The podcast format entails providing news items and current affairs in the target language at a slower pace than usual. This makes it easy for language learners to understand and follow along. The podcast also offers a transcript of each episode, which students can read to solidify their learning further.
One of the advantages of News in Slow is that it lets learners strengthen their comprehension and listening abilities realistically and entertainingly. In addition, learners can improve their understanding of native speakers by listening to news articles and current events.
Furthermore, the podcast's hosts provide detailed explanations of essential vocabulary, grammar topics, and cultural references, making it an ideal resource for learners looking to improve their language ability. This makes it an excellent resource for learners who want to stay up-to-date with current events while improving their language skills.
Creative Language Learning Podcast with Kerstin Hammes
Creative Language Learning is one of the best podcasts for language learning, hosted by Kerstin Hammes. It is an excellent resource for anyone who wants to learn a new language or improve their language skills.
Kerstin Hammes is a language coach, author, and polyglot passionate about helping people learn languages in creative and fun ways. Her podcast is an excellent platform for sharing her insights and tips on language learning with a global audience.
The podcast covers a wide range of topics related to language learning, including tips for improving your speaking and listening skills, strategies for learning grammar and vocabulary, and advice on staying motivated and maintaining your language learning momentum.
Hammes also shares her language-learning journey's stories and experiences and interviews with other multilingual individuals and language experts to get insights into their approaches and tactics. One of the Creative Language Learning Podcast's distinguishing features is its emphasis on creativity and pleasure in language learning.
The host believes that learning a new language does not have to be difficult and that through incorporating creativity and playfulness into the learning process, learners can enjoy the journey and develop more quickly. She gives tips on including creativity in your language learning, such as using music, movies, or games to practice your language skills.
Innovative Language Podcast
Innovative language is a language learning podcast designed to help learners acquire new language skills quickly and efficiently. The podcast provides an innovative approach to language learning that is both engaging and effective.
One of the most innovative aspects of the podcast is that it provides a combination of audio and visual materials to help learners practice and improve their language skills. In addition, each episode includes a dialogue between two native speakers broken down into manageable sections for the learner to follow.
In addition, Innovative Language also includes cultural insights and explanations of grammar and syntax, making it an all-in-one resource for language learners. The podcast hosts are passionate about language learning and strive to create a fun and immersive experience for their listeners.
Podcasts created explicitly for language learners to real podcasts created for native speakers. Language-learning podcasts are suitable for beginners since they frequently include explanations, exercises, and repetition. On the other hand, authentic podcasts can challenge more advanced learners.
Podcasts for language learning can be an excellent tool for people interested in languages. They provide learners a convenient way to practice listening skills and improve vocabulary while entertained.
With the wide variety of podcasts available in different languages and on various topics, learners can find something that interests them and fits their skill level. However, podcasts should not be the only tool used for language learning, as they do not provide interactive practice or feedback opportunities.